Student Life
Our Location
Midreshet Moriah is located in the quiet, safe, beautiful Jerusalem neighborhood of Bet Ha-Kerem, Jerusalem
Our Dormitory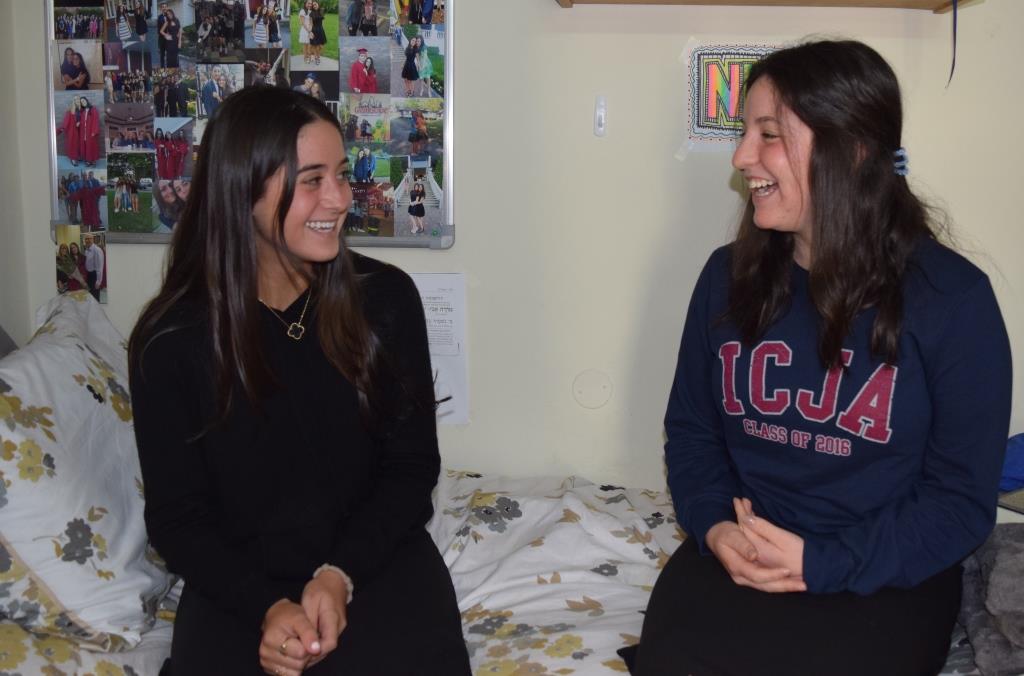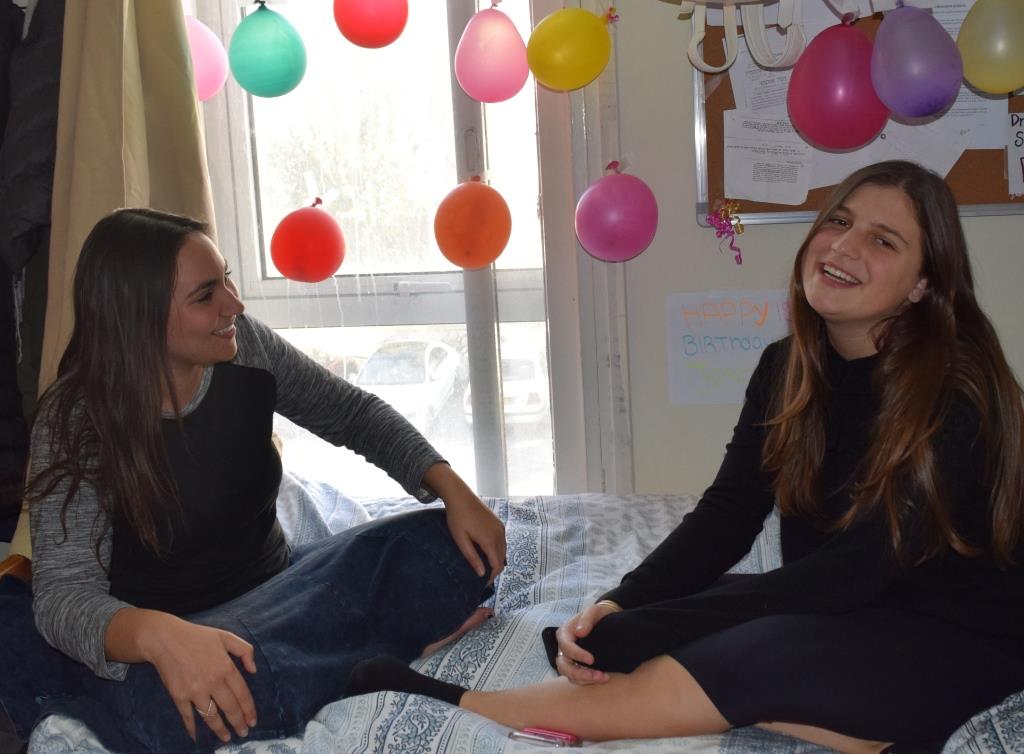 Our dormitory is located in our new building. Each room has its own private bathroom and shower, is attractively furnished and has its own refrigerator. The rooms are centrally heated. The dorm is supervised by the Em Bayit and resident madrichot. Students generally live two - three to a room, and may request their roommates or go "potluck" and have the roommates assigned. Students may invite female friends home overnight and for Shabbatot. Our Bet Midrash, classrooms, dormitory and dining facilities are all located in one building.
The dormitory is supervised by resident madrichot (counselors) and an Eim Bayit (house mother). In order to create an environment of kedushah at Midreshet, don't bring things which will distract you and others from learning, and bring down the kedushah of our environment. This is your year to focus on growing in ruchniut! We don't allow movies, TV programs, or videos in any form (DVD's, on hard drives or memory cards, or any other formats) and will confiscate them if they are brought. We don't allow devices which play movies ( DVD players, etc.) and will confiscate them if they are brought. The only exception is an Ipod or similar MP3 player, which you may bring on condition that you promise not to use it to view video content. If a student uses a device for video, it will be confiscated.
Blackberries, Ipones, Itouch devices, and the like, are permitted. Since use of any phone in the Bet Midrash or classrooms is not permitted, all devices must be deposited in the baskets available for this purpose in each room.
Don't bring expensive things which can "disappear," like jewelry and very expensive electronics. You'll want a camera, and maybe an MP3 player/Ipod, but keep them out of sight. We are not insured for valuables that are lost or stolen.
Communication Services
Faxes may be sent and received in our office (fax number 2-651-1524 or 646-929-4429). E-mail service is available to all students, including access to Skype.
Shabbat
On regular Shabbatot, you may spend Shabbat with family, friends or members of our faculty. We are always happy to help set you up with places to go for Shabbat! Students may also stay in the dorm for Shabbat whenever they like, as long as a certain minimum number of students is interested, in which case we provide Shabbat food and a Madrichah stays for Shabbat with them.
Chagim 5777 (2016-17)
Students are invited to teachers' homes for Rosh HaShannah and Yom Kippur (optional).
On Sukkot, the dorm is open during Chol Ha-Mo'ed but closed for Yom Tov.
We spend Shavuot together at Midreshet Moriah on campus.

Meals
A light breakfast of cereal and milk is provided. Lunch, the main meal, includes soup, salad, a main course, cooked vegetable, starch, and dessert. Meals are served on days when shiurim are in session. Dinner will be provided four nights a week. The dining room has a small kitchen for the students' convenience, with limited cooking facilities, including ovens and microwaves. Students may bring (or buy in Israel) a toaster-oven or sandwich maker (220v) to prepare light meals and snacks in their rooms. Nearby, are shopping centers which include supermarkets, pharmacy, kosher pizza, bakery, Bank Ha-Po'alim, and other shops.

Banking, Shopping, Post Office
There are two shopping centers not far from the Midrasha which include a supermarket, pharmacy, post office, school supply store, kosher pizza, bakery, ice cream shop, Bank Ha-Po'alim, and other shops.

Laundry
Laundry facilities are located in the building. Each student is responsible for her own laundry. Students may also arrange for pickup and delivery service.

Leisure & Curfew
You must return to the dorm by 12:00 AM on weekdays and 12:30 A.M. on Thursday and Saturday nights. You may not stay in a hotel without adult supervision deemed appropriate by the school.

Dress
Please pack and choose clothing to wear with the knowledge that our standards will be enforced vigorously from the moment you land in Israel and through the entire year.
In order to avoid unpleasantness or embarrassment for you, we would like to clearly outline Midreshet Moriah's dress code – which applies both in school and during your free time.
All clothing must be loose-fitting.
Necklines must be closed to the collarbone. V-neck or scoop-neck shirts or sweaters are not acceptable. Men's v-neck or sleeveless undershirts are not acceptable.
Sleeves must cover the elbow.
Skirts must reach well below the knee when standing or sitting. Slits above the knee (front and back) are not permitted.
Shirts must cover the torso when standing, sitting and bending.
Slacks are not permitted.
See through clothing is not permitted
T-shirts should not bear inappropriate pictures or writing.
Jewelry worn in excessive amounts or non-traditional ways and places is not permitted.